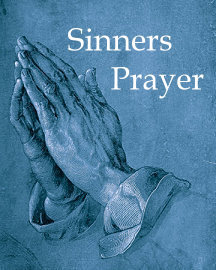 The "sinner's prayer" is a very popular tradition in evangelical churches. It is so widespread, in fact, that for many it has become an integral, necessary part of the gospel message itself, so much so that any evangelism that lacks it will most likely be regarded with suspicion.
For those who don't know, the sinner's prayer is a prewritten prayer for salvation that often appears at the end of gospel tracts or is provided by a preacher at the close of a presentation of the gospel message. The idea is that if an unbeliever prays the prayer word for word sincerely, he or she will be saved.
I imagine a whole book could be written about this method, but I just want to touch on a few issues. First, the Bible says nothing about it either explicitly or implicitly. This biblical silence on the sinner's prayer should prompt us to wonder where it comes from. To be fair, though, this silence alone is not enough to make it wrong. After all, the Bible is silent on many other popular aspects of Christian culture, such as Sunday School and Christmas trees, yet we continue with those.
Second, this method is a relatively recent development in evangelical circles. Compared to other Christian teachings that have been around for the roughly 2,000 years of church history, the sinner's prayer is really a new kid on the block—a theological novelty. As such, it was never passed on by the apostles. Not only that, but if this technique were really as vital as many make it out to be, one has to wonder how the church got along without it for so many centuries.
Third, it invites the wrong kind of assurance. True assurance of salvation is not based on a one-time prayer made in the heat of a past moment but rather on the presence and increase of spiritual fruit in a person's life. In other words, biblical assurance stems from a sustained pattern, not a single prayer. If a single prayer gave us assurance of salvation, then we would not be commanded in Scripture to make our calling and election sure by producing an increasing abundance of spiritual fruit in our lives (2 Peter 1:3–11).
Finally, leading someone in such a prayer could really be an attempt to do what only the Holy Spirit can do: draw someone to Christ. Like it or not, we have no power whatsoever to draw others to Christ. Our job is to sow the seed of the Gospel; the condition of the soil is up to God. When that soil is good, we will see fruit, and it will grow. Regenerated people will pray to Christ in contrition and brokenness over their sins. You can be assured of that. They will repent. They will come to Christ sincerely. Their new nature will lead them to do those things, and even more. If they do not have a new nature—if they are not born again—then all the sinner's prayers in the world will amount to nothing. Consider this parable that Jesus told:
"The kingdom of God is like a man who casts seed upon the soil; and he goes to bed at night and gets up by day, and the seed sprouts and grows—how, he himself does not know. The soil produces crops by itself; first the blade, then the head, then the mature grain in the head. But when the crop permits, he immediately puts in the sickle, because the harvest has come." (Mark 4:26–29, NASB)
Just like the seed sower in this parable, we do not know how the kingdom of God grows; our job is simply to sow the seed, not to try to make it grow. That growth comes from God alone.
I have no doubt that God is fully able to convert someone through a sinner's prayer, but I think it must be used very wisely and only in conjunction with certain teaching. Such accompanying teaching should include the following.
The gospel should be carefully and clearly explained.
The cost involved in following Christ should be conveyed (count the cost!).
It should be emphasized that a single prayer cannot be relied upon for salvation. Only Christ can be relied on for salvation, and He must be relied on every day for the rest of one's life.
4 Responses to Problems with the "Sinner's Prayer"